Joined

Feb 7, 2021
Messages

4
Reaction score

4
Your Mercedes

W211 E320 CDI
Hi Fellas
I decided to do some investigation myself before I send my SBC to JohnySBC for repairs. I have connected my Star diagnostic tool and read the errors from the SBC unit. This is the list of the errors I got:
C235A - Check component A7/3 (SBC hydraulic unit)
C25D4 - Hydraulics fault: No or insufficient pressure supply
C26DE - Hydraulics fault: Malfunction in pressure supply
C26BB - Hydraulics fault: Malfunction in pressure supply
I decided to replace the break fluid and bleed the system using Star. All errors apart from C235A went away which suggested there was air in the system. I did some reading and found that this error could be caused by worn brushes. I took the unit out, removed the motor cover and the brushes were indeed worn out. I have order new long life brushes and replaced the old ones. I have put the unit back in and bled the system using star again. The car breaks as it should but the error is still there. With the break pedal pressed I have read the values of the SBC related sensors. This is what I got: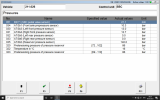 For some reason rear left and right sensors both read 0. I suspect this could be an issue. Is the sensor built into the unit itself? Any help would be much appreciated.
Best Regards,
Mike