Hi guys
I've put some new wheels on the 320 this week. I like the design of the standard alloys, but at 17" they just look too small on the car in my opinion. I spent a lot of time researching which size and offset would be my best bet, along with what tyre size to fit. If anyone is looking at changing the wheels on there w163 ML you'll most likely get a lot of conflicting advice from different alloy wheel dealers. I certainly did.
For example I've been told the correct offset that I need is anything between 30mm and 52mm! Some people say you need 275's, other 295's. So what I decided to do was try a few different sets on the car before buying. I had in my mind that I wanted 22's, but after trying a set on (with 295/30's) the ride was much harder than standard, and I actually thought that without lowering the car (something I won't be doing) that they didn't look quite right. Almost comically big.
So next I tried some 20's. Tried on a few different sets until I settled on the best offset and tyre combo. To save you all the hassle of having to do that, I can tell you that I've gone for 10 x 20's, with an offset of 35mm, wrapped in 295/40 continental sport contacts. They fit perfectly, no spacers or different bolts needed and the car drives just like standard. They stick out maybe 3/8's of an inch past the arch, just enough to make the car look 'phatt' from the back, but no problem for MOT time.
What do you think?
I'm loving the wipe clean stainless steel outers, no polishing for me!
I'll get some better pics when I've cleaned the car this weekend, just snapped this on my phone this morning.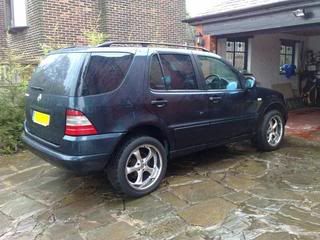 Last edited: