Joined

Mar 29, 2018
Messages

10
Reaction score

4
Your Mercedes

W211 E320 2009 CDI
Morning All,
Just joined up and thought I'd say hello And sorry in advance for the long post but hopefully it'll be of interest to y'all
My Mercedes story started in Spring 2015, with me being approached by our Sales Director at work asking if, as a 'car guy', I could source a car on behalf of the company for no more than £1000 for a charity rally we were entering. A drive from Northampton to Lake Como and back over the space of 5 days in aid of prostate cancer. Three people would be going so whatever I bought would need enough space for them, their luggage and camping gear. After browsing AutoTrader the only car that seemed to fit the bill was a late nineties Mercedes E class of some kind. I went to look at a V6 petrol version first, but as the poor thing was pouring engine oil out of itself as soon as it started I didn't even get as far as a test drive. Next was a 1997 E300 TD Avantgarde - a former company car she had covered 80k miles in the first two years of her life then just 18k miles in the next 16 years. On the test drive she was filthy dusty inside, smelt musty and took a while to start (nearly flat battery) but seemed solid enough so the deal was done at £995 to include an oil service and new front brake pads. Here she is, affectionately named 'the SS Mercedes', after a bit of a clean up inside and out at my house:
I was impressed that the air con, cruise control, etc, all worked perfectly, and after driving her around for a few weeks to prove her reliability I felt myself thinking more and more, "this is a great car for a mere 1k, I'd happily drive her as my own daily car..."
For the 2015 charity rally the theme was Musicals and we chose The Phantom of the Opera, so she was stickered-up accordingly: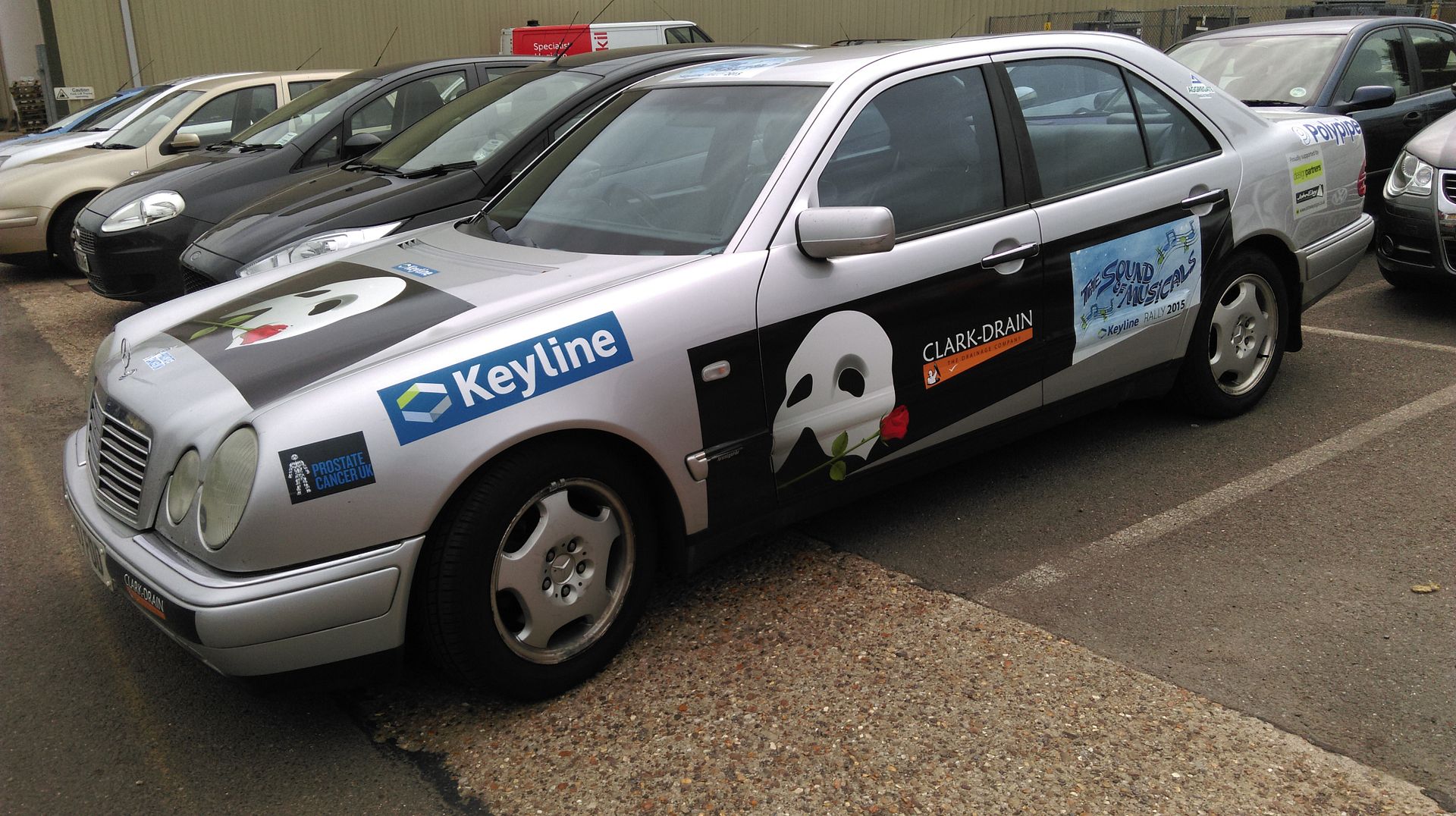 She performed without fault on the rally, garnering much admiration from the 3 participants who all thanked me for getting them such a nice car for the event (by contrast other entrants were crammed into classic Mini's, breaking down every half an hour in old Jag's, etc). The decision was made to keep her for future events
The 2016 rally had a theme of Hero's and Villains; we chose Austin Powers and Dr Evil and the car was re-stickered but looked dreadful in pink and purple so I have no photo's!!
Again she performed perfectly, all the way to St Tropez and back, although suffered a smashed rear quarter window after the donuts who were driving her locked the keys in the boot and thought they could get in there from inside the passenger cabin
Took a while to source replacement glass with the correct tint but I fitted it easily enough once I did.
Last year the theme was Sci-fi and we chose Star Wars...her she is in her third livery:
The journey was to the Pyrenees and back. At one point in near torrential rain she did lose electrical power and cut out, but started again after 10 mins parked up on the hard shoulder and didn't miss a beat after that. I removed most of the stickers and gave her a proper clean up, with a paint decontamination, clay, polish, wax and seal earlier this year:
Unfortunately soon after she went into limp mode and will only drive in 2nd gear, so I'm currently investigating the issue as she'll be needed for the 2018 rally in June.
The positive experiences with the SS Mercedes lead me to consider buying my own E class should I ever need a new daily driver. That time came in January when I moved my daily driver Abarth Punto (aka 'the liability', but that's another story) on so I started having a look around what was for sale. Initially I thought a W211 E270 diesel might fit the bill, a good combination of power and fuel economy, but my attention was soon grabbed by the facelift E320 CDI model with 7G 'box. After a brief search I realised that I would have to travel if I wanted my colour of choice - Barollo Red - but found a very nice looking Sport example for sale privately near Glasgow. On a 58 plate, registered early 2009, and with just 68k miles on the clock. All previous MOT's passed without any advisories. None-the-less it was a risk on my part to travel so far on a one-way train ticket to view a car but she didn't disappoint and the deal was done after a very nice test drive and I had the pleasure of a 348 mile drive home. It was bliss the whole way, I never driven so far so comfortably and the torque from the V6 makes for effortless progress. To say I'm impressed with her is an understatement - every drive is a pleasure and I keep taking the long way to work! Here she is, named Kisbowe (due to the reg), on the day of purchase:
Other than the broken wire for the boot lid earth issue, which took me 10 mins to fix, she's been perfect so far and I'm looking forward to many thousands of miles in her